Journey Mapping the OP Experience
Journey Mapping the OP Retail Experience
experience design @ Eight
OP, a Finnish financial co-op company, asked Eight to reimagine their retail experience. We designed OPen House, an integrated digital-physical concept. The three user journeys below exhibit the mission of supporting OP customers with education, expert advice and services benefitting all aspects of their lives.
"My parents and other 'old' people don't take my dreams seriously. They tell me I need to learn to save for the future. I do want to save, but I also don't want to compromise. I am still young. Now is the time I should be exploring and making the most out of life."
How do we capture the attention of young adults and introduce them to the OP Service Portfolio?
Making best use of Ambassador insights and social media data, deploy targeted messaging and OP Meet intercepts to capture their attention. Engage them with OP Vision tools and prepare concierge profiles for future OPen House visits and events. Automate their visit welcomes and impress them with tailored information served up on the spot via and AI optimized Smart Greeting. Discuss ambitions on their terms and invite them to hang out in the Common Area.
1 of 8 OP Meet
Miika comes across an OP Meet location on campus and chats with the OP Ambassador about his desire to save for a trip he's planning with friends. The Ambassador informs Miika that OP can help him organize finances, connect to a network of freelancers, and track goals with her friends. She shows Miika the Social Platform and how it helps community members connect. The Ambassador recommends that Miika stop by an OPen House nearby to learn more. He decides to investigate the following weekend.
3 of 8 The New OP
As Miika approaches the OPen House, he sees that there is more going on than expected. A dynamic Marquee of current attractions catches his eye. Through the Storefront, he notices groups of people chatting and working on laptops at tables and lounge seating inside. It seems more like the study areas he frequents on campus, but more up to date and closer to his apartment.
2 of 8 Welcome
Miika approaches the Smart Greeting near the entrance. It prompts him to say 'hei' ( AI ) and share his name. He types in his name and sees that the topics he'd discussed with the Ambassador appear on the screen. There are some other interesting topics too ( AI profile database ). The Smart Greeting directs him to OP Vision.
4 of 8 Connected Services
Miika approaches OP Vision — he can see it from across the room. He sees an OP associate demonstrating and presenting to other customers by interacting with the large touchscreen. He notices a group of icons with the topics he is interested in orbiting each other — those must be for him, he thinks, then taps them and discovers an interactive brochure tailored to his interests. It offers a network of services that work together to support students like him, including options he had not anticipated, but thinks are interesting.
5 of 8 Early Enrollment
He becomes very interested in a particular service and an OP Coach approaches Miika to see if he has any questions. Miika mentions that he's interested in signing up for OP's car share, and the expert suggests that they take a seat at the Worktable and take a closer look at his options. Before making the move the Coach touches the screen and drags his selections to a Worktable icon and they disappear. At the Worktable Miika sees all his choices are pre-populated on the screen and all he needs to do is fill in more specific information. The estimated costs actually go down as he enters the information. Miika decides to sign up for the service, and he is able to complete the transaction right there.
6 of 8 Personalized Coaching
The OP Coach suggests they take a seat in the Coaching Lounge to download the Mobile Pass and Dashboard to manage his account. Miika mentions he had questions about travel plans and freelancing support. The Coach pulls up Miika's profile from his conversation with the Ambassador. He introduces Miika to OP's goal-setting tools and adds them to Miika's Dashboard to view later and let's him know that he can set up services to help him plan his trip with his friends and network with potential employers on the Social Platform. The Coach shares a story of how others have used this feature on the Success Stories exhibit.
7 of 8 Sharing Goals
At home, Miika shows his friends the Dashboard and how they can use it to meet their financial goals for their upcoming trip together.
8 of 8 Staying Connected
The following week, Miika makes an appointment with a Coach via the Dashboard and brings his friends along so they can all get the benefit of his new discovery. They settle at one of the tables in the Common Space to discuss financing their trip. Later, they set up a private discussion group on the Social Platform so they can share questions with the Coach.
"I have been working on an idea for my own business, but I need more connections before I am willing to make the life change and investment."
How can OP be an entrepreneur's high of mind and their first choice?
An ongoing Event program addressing the needs of SME clients promoted through marketing channels, the Social Platform, and featured on the Marquee consistently keeps SME services as a consistent OP theme. OPen House is the 'go to' SME service center in the community. Use the Common Area and Coaching Lounge to promote networking and light co-work and business skills sharing and development. Promote the coaching and networking experience so SME's see OP is a conduit for growth.
1 of 8 Marquee intercept
While bringing his daughter to daycare Matti passes an OPen House, and notices the Marquee advertising an event for working parents organized by the Community Manager. He wants to start his own business and thinks, maybe this would be a chance to make good connections or receive some much needed advice.
2 of 8 Signing up
At home, Matti searches for the event online and the local OPen House website is at the top of the list. He sees that there is already a discussion group about the topic ( Social Platform ) and reads through the comments. He strikes up a quick chat with an OP service rep ( Bot ) about the event. The rep ( Bot ) signs him up for the event and recommends he download the Mobile Pass ( lite version ) as it comes with pre-loaded value he can use at the café ( Common Area ).
03 of 8 Event
Matti attends the Event and enjoys how casual the setting is. It's held in the Coaching Lounge ( + Event Transformation ) where people can gather around in comfortable couches and chairs ( he had half-expected a dry lecture and folding chairs ). The topic specialist leads a conversation dispensing good advice and recommendations.
4 of 8 Connections
Matti is thankful that he downloaded Mobile Pass ( lite version ) as it allows him to download notes provided by the Topic Specialist. He is also able to make connections with other attendees through the Mobile Pass ( lite version ) during the event who seem to be in the same situation and would like to find out if they could trade on their skills to help each other. The Topic Specialist recommends that they make arrangements to meet again in the café ( Common Area ) for an informal meet up on their own. Matti invites his connections to meet him at a scheduled time through the Mobile Pass ( lite version ).
5 of 8
Matti arrives for his meet up early to spend his café coupon, and he is welcomed by the Greeter, who checks him in on a tablet. The Greeter gives him the option to wait in the café but asks if he would be interested in making an introduction with an OP Coach briefly instead. He agrees. The Greeter shares with Matti the Success Stories exhibit while the Coach comes to meet him.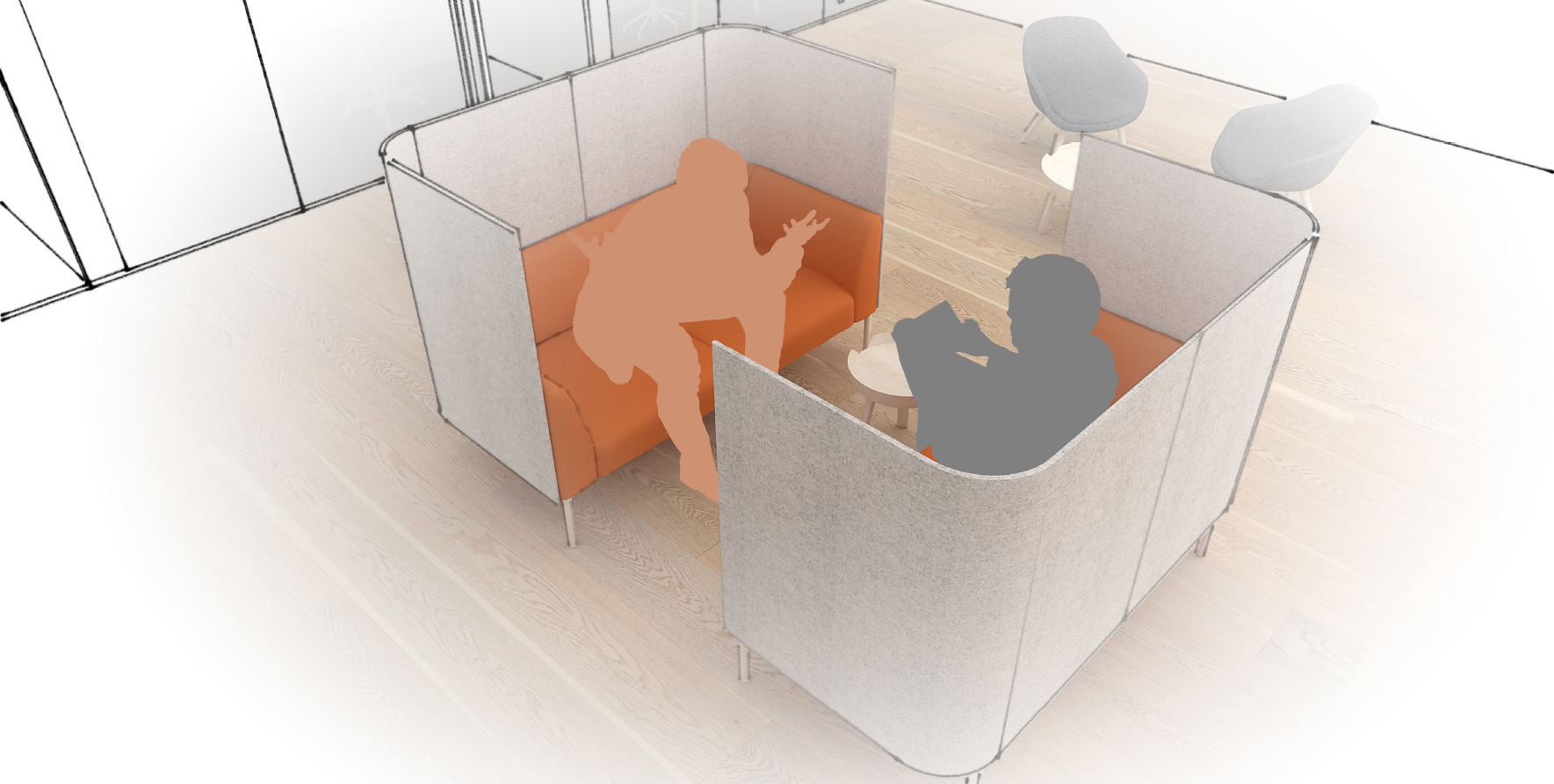 6 of 8 Tailored advice
Matti and the Coach take a seat in one of the more private alcoves in the Coaching Lounge. The Coach asks him about the recent event and why he attended. The seating feels private enough for Matti to talk about sensitive information, but casual enough that he feels at ease. Matti explains that he would really like to start his own business but is concerned about the risks involved now that he is a parent. The Coach talks Matti through OP's services for SME's.
7 of 8 Social Platform
The whole process of setting up a business and being a parent seems like a daunting challenge for Matti. The Coach suggests the idea of planning in stages and how OP can assist with taking on the challenge in manageable steps. This peaks Matti's attention. They discuss how OP's range of services is more than financial and when working together his ambition could be more achievable than he thinks. Matti takes the initial step of upgrading his Mobile Pass ( with fee ) to view the planning tools and makes an appointment to meet with the Coach again to solidify a plan.
8 of 8 Collaboration
Matti attends his meet up and shares information with his connections, some of whom are already subscribing to OP services for their new ventures.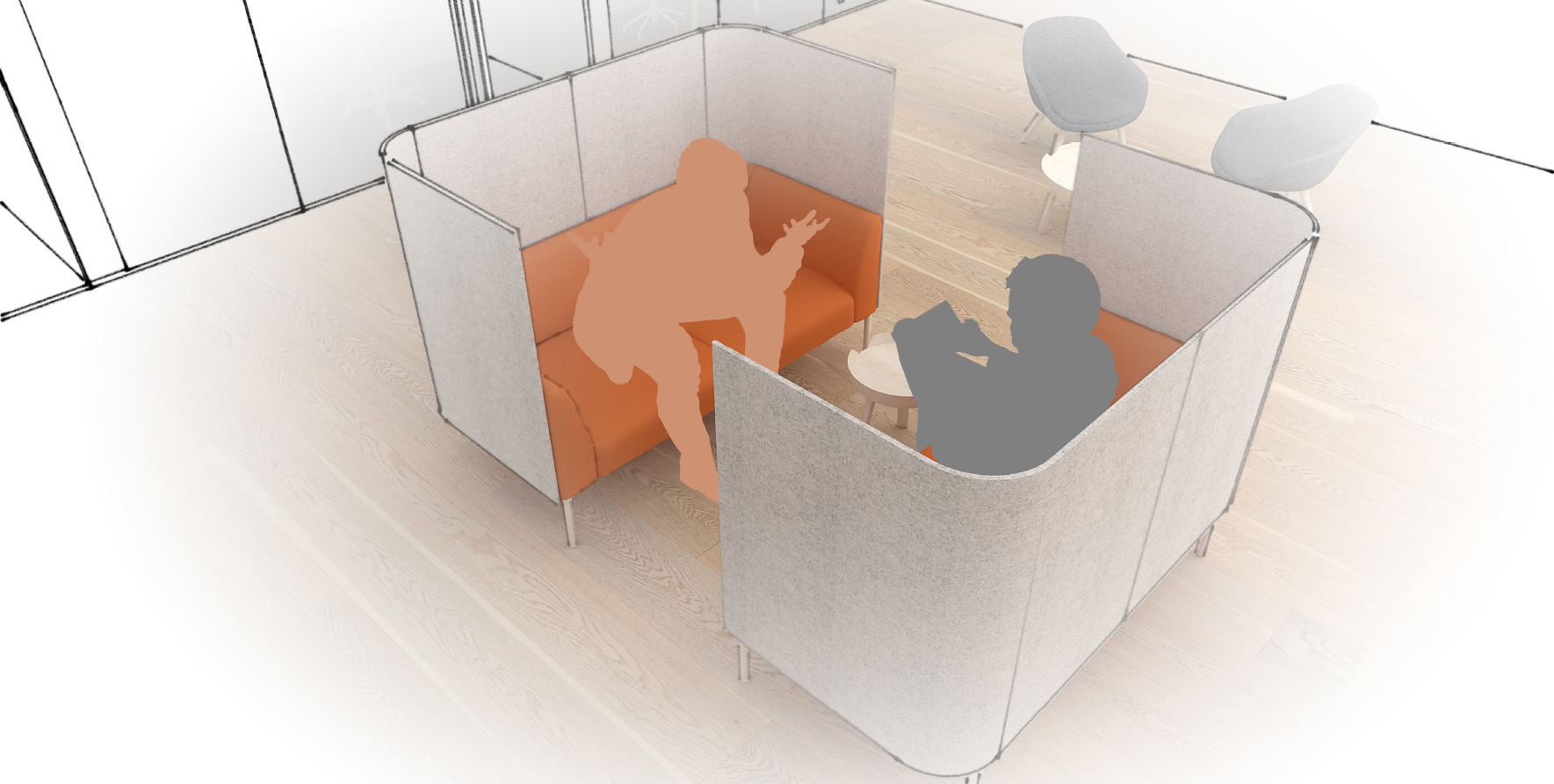 Middle Age Corporate, Riina
"The business has been my life for so long. I'm not sure I know how to function without it. Even if I wanted to slow down, there is no one to take the reins. I don't know what the future holds, but I know I can't let the business die with me."
How can OP help business leaders grow and realize more personal rewards and wellbeing?
Using Dashboard data and Ambassador insights, build targeted Events around challenges facing OP community business leader customers and invite them directly using push notifications. Inspire them to inquire and listen to their needs and concerns and direct Coaches to anticipate more than a tactical need — they may be facing broad challenges effecting their employee and personal wellbeing. Topic Specialists and Coaches can work together to address different requirements.
1 of 8 A New Opportunity
Riina receives a notification on her Dashboard about an invitation only event for agricultural business owners at an OPen House. She has been having HR management challenges recently and this topic resonates with her. Riina decides it could be useful to see what other people are doing in her industry.
2 of 8 After Hours
The event is held in the evening — convenient for her. When Riina arrives, the facade is glowing and she sees people gathering in the Common Space ( + Event Transformation ). She checks into the event using her Mobile Pass. An OP Ambassador is giving a brief presentation highlighting the Success Stories of some of the attendees. They then move on to a more formal presentation mode on a large screen ( Coming Attractions + Event Transformation ) after the meet and greet session concludes.
3 of 8 Expanding Networks
Riina is intrigued by some of the comments made by one of the presenters. After the presentations they take a seat in the Coaching Lounge to chat. They discuss Riina's questions and the fellow business owner indicates that he received good help from a particular OP Topic Specialist.
4 of 8 Connected Resources
The fellow business owner connects Riina through the Social Platform to the Topic Specialist who helped him update his company's health and wellness policies.
5 of 8 Heightened Service
Riina makes an appointment with her Coach to go over some of the services she learned about at the event. Her Coach is waiting ( Smart Greeting ) for Riina when she arrives, and escorts her to one of the Advisory rooms reserved for the meeting.
6 of 8 Private Discussion
Within the Advisory room the Coach initiates a Live Chat session with the OP health and wellness Topic Specialist who walks Riina through OP's wellness options for businesses and offers to give a talk to Riina's employees about the policy Riina chooses. Her Coach coordinates with the Community Manager to set up a date and time for the talk with the dates Riina provided through her Mobile Pass.
7 of 8 Wellness Seminar
The Topic Specialist hosts the seminar in the Wellness Hub to go over OP's wellness services with Riina's employees. He shows them how to use the Dashboard to keep track of their policies and share information with Riina's HR Manager.
8 of 8 Convenient Locations
Later Riina is invited by her Coach for a follow up meeting and recommends they meet in an OP Outpost location closer to Riina's home. The Outpost is appointment only and Riina appreciates the more exclusive atmosphere. The advisor suggests that Riina could free up some of her personal assets and services from the company — a benefit to her and the her book keeping. It would also qualify her for elevated status in her personal accounts with OP. Riina appreciates the differentiated treatment and convenience, and reviews the recommendations carefully with her Coach.
Principles: Mike Ely, Troy Shelton
Designers: me, Joanna Chueng, and Vera Shur
duration: 3 weeks
april 2018